Corps Birthday Events 2017
West Australia
AABC 49th Birthday Celebrations - Perth
ROLL CALL
Calling all current and ex serving members. Join the members of Australian Army Band Perth to celebrate the Corps 49th Birthday.
When: Saturday 5 August 2017
Where: Herdsman Lake Tavern (33 Herdsman Parade, Wembley WA)
Time: 1100h
Meals and drinks can be purchased by those attending at the venue at reasonable prices with no other costs for the function.
RSVP by Mon 31 Jul to Alex Marshall email; alex.marshall2@icloud.com
South Australia
AABC 49th Birthday Celebrations - Adelaide 
Association Assistant Secretary Dave Oakley reports that those ex members and current members of the AABC living in the Adelaide region are invited to join me and celebrate the 49th Birthday of the AABC.
Where: Avoca Hotel, 893 South Rd, Clarence Gardens
When- 12.00pm (noon) on Saturday 5 August 2017
Wives & partners welcome to attend. Drinks at own cost.
if you intend to come along please let me (Dave Oakley) now so bookings can be finalised...
I look forward to seeing you there...
Victoria
AABC 49th Birthday Celebrations - Melbourne
Message from Gordon Lambie... Good afternoon everyone, I am thrilled with the response to the AABC 49th celebration proposal, a terrific base from which to begin planning for the 50th in 2018. Details are:
Where: Limerick Arms Hotel, Clarendon Street Sth Melbourne
When: 12:30 onwards, Sunday 6 August 2017
Carolin and I went along and had a meal there last week to check it out and will do the same for lunch on 6 Aug, love to see others do same. Food is good, atmosphere also good pub vibe. As advised in my initial email, there are no funds available to offset any costs for this event so everything will be pay as you go. If I'm able to swing a 49th birthday cake I may hit you up for a couple of dollars on the day. I will forward another update in a couple of weeks to ensure everyone is on net.
Tasmania
New South Wales
AABC Birthday celebrations - Sydney
Who: All current and former AABC full-time and Reserve members in the Sydney region
What: AABC 49th Birthday Function - food, drinks & games
Where: Australian Army Band Sydney - Victoria Barracks, Paddington
When: 6-30pm onwards, Tuesday 1st August
Please RSVP for catering purposes and general inquiries to Luke Glasson - glassonl@yahoo.com.au
If you have friends who were / are members but are not on facebook please feel free to share this with them also
ACT
AABC Birthday Celebrations - Canberra
Dear current & ex-serving members of the Australian Army Band Corps... The Officer Commanding of the Royal Military College Band, Major David Bird, invites you to join in the celebration of the 49th birthday of the Australian Army Band Corps on Thursday 3 August 2017 at the RMC Band Room.
The day's schedule of events will be as follows:
1330h: BBQ lunch and official function
1500h: Cutting of the cake
1600h: End of official function
We hope you are able to join us and look forward to seeing you there!
Please RSVP with any dietary requirements by Thu 6 Jul 2017 to MUSN Rachel Shead at: rachel.shead@defence.gov.au


Queensland
Saturday, 5 August 2017. 1300-1600hrs
Gaythorne RSL, first floor function room
534 Samford Rd, Mitchelton QLD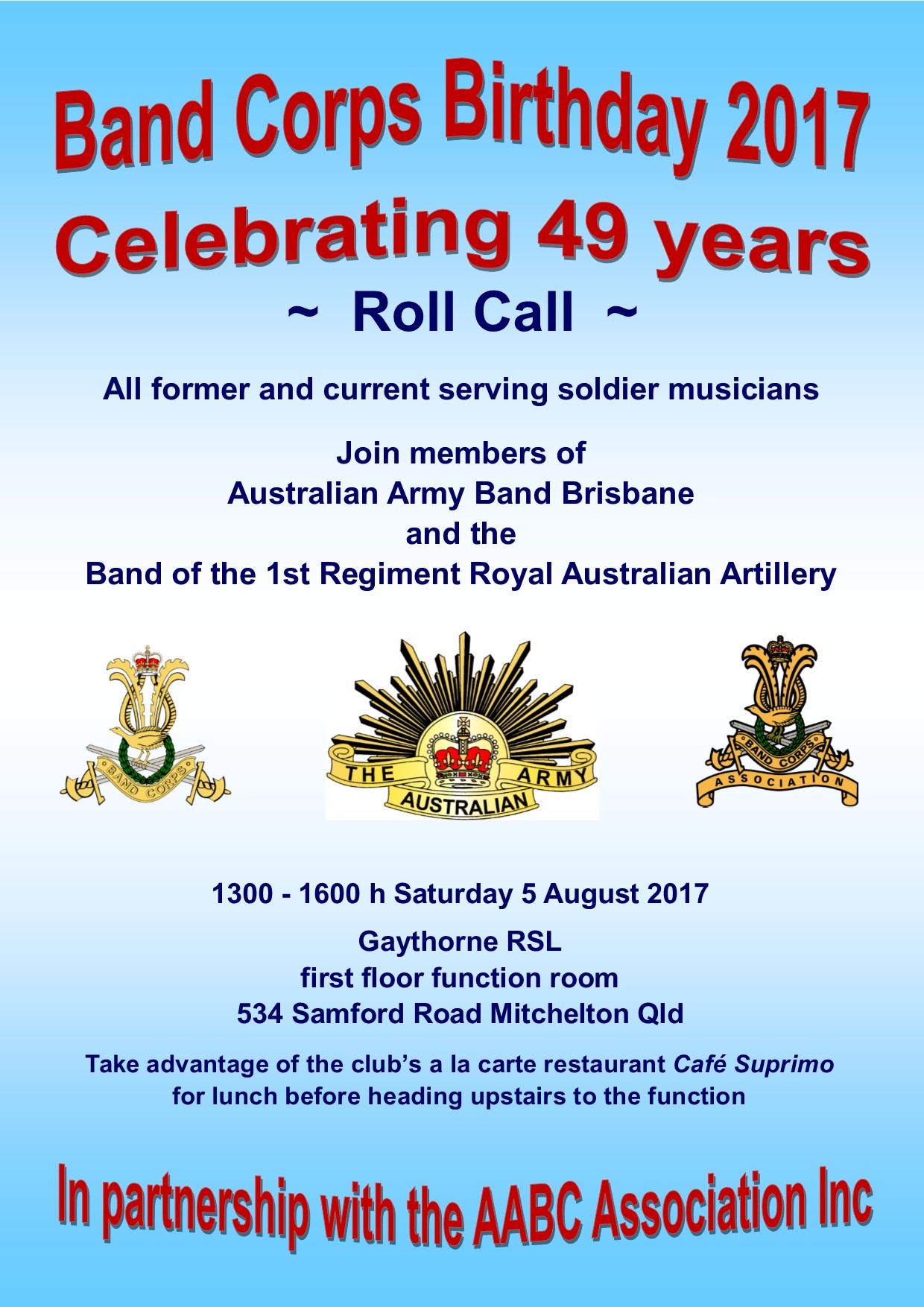 Northern Territory