South East Queensland Army Apprentice Reunion - Bulimba Bowling Club
(21 May 2015)
Reminder - The annual South East Queensland Army Apprentice School Reunion will be held again this year, however it will be conducted at a

new venue

 due to the Bulimba Barracks closing.  The reunion date is Sun 7 Jun 2015 commencing at 1100h - 1600h. All ex Apprentices are welcome to attend. The new venue is:

Bulimba Bowling Club

Thynne Road
Balmoral Qld
For further information contact Brian Daley (14th MV) on Mob: 0412 721 761
---
Sick Parade Update - Kevin Klein

(16 May 2015)


Judy Klein reports that Kevin was hospitalised last Friday, had lots of tests then sent home. Judy says Kevin later took another turn for the worst, the abulance was called and he went back into hospital, but again returned home. Judy says he's much happier at home and says they are expecting his other daughter from Adelaide to visit shortly.  If you wish to contact Kevin, phone: 
07 4152 8807
The thoughts and prayers of the association, his friends and former colleagues go out to Kevin at this difficult time. 

 

 
---
2015 AABC Association Reunion (Adelaide) - Registration Form


(13 May 2015)

The South Australian Chapter of the AABC Association wish to advise that the dates for the 2015 Association Reunion being held in Adelaide on Fri 16 Oct - Sun 18 Oct 2015 are confirmed.  The Adelaide Committee suggest that if you are attending you should book your accommodation now to avoid disapointment. 
The Event Sheet plus the Registration Form for the Reunion can be seen and downloaded from the Reunions link.  The Event Sheet includes a 
recommended accommodation list for your information.
---
Vale Robert (Rob/Bob) Campbell-Stewart (29 Nov 1932 - 29 Apr 2015)


(11 May 2015)
MAJ David Bird, OC/Music Director RMC Band advised that one the members of the unit noticed this funeral notice in a recent newspaper regarding the passing of Mr Robert Campbell-Stewart who passed away on Wed 29 Apr 2015.  Apparently the funeral has already been conducted and no other details are available except what was published in the recent funeral announcement.
Robert was one of the establishing members of RMC Band in 1954 and was the Band Sergeant. He regularly played the 'Last Post' at the AWM Robert and was also the first soloist who performed with the Canberra Syphony Orchestra in 1955, playing Hayden's Trumpet Concerto. He later formed his own band 'The Campbell Clan'. He was a fine sportman representing the ACT in Basketball in 1960 who also played golf, tennis and table tennis.
The association pass on their sincere condolences to the family.  RIP
---
Vale Katie Rogers


(16 May 2015)
Association member Nelson Oakley advised the association that Katie Rogers, wife of Barry Rogers passed away on Fri 8 May 2015 after a long illness.  
Katies' funeral was held at the Buderim War Memorial Association Hall on Friday the 15 of May 2015. 
The AABC Association send their condolences to Barry and his family at this sad and difficult time.
---
Vale Mick 'Smokey' Dawson
(28 Apr 2015)

Leslie 'Shina' Wright, ex Navy WO has advised the association of the passing of ex Navy and Army musician Michael 'Smokey/Mick' Dawson.  Mick's brother Gavin Dawson has contacted the association said he passed away peacefully at Fiona Stanley Hospital in Perth on Mon 27 Apr 2015 after a short illness.  

The funeral for the late Mick 'Smokey' Dawson was held at the Fremantle Cemetery at on Tue 5 May 2015. The funeral was followed by farewell drinks and refreshments for those who attended at the Ocuean Clipper Inn at Rockingham.

Mick has kindly bequeathed $5000 to AABC Association as well $5000 to the Navy Band Association.
The AABC Association pass on their sincere condolences to his family and friends.  RIP
---
Vale John Hickey


(27 Apr 15)
Association member Michael Pyne has advised the association that he received a message from Brendan Barker that his father in law, John Hickey, ex BSM of the RAAF Central Band, had died and that it coincided with Mike Butcher's passing.  No other details are know at this stage.
That was followed immediately by a post on FB from Greg Butcher.
---
Vale Michael Butcher
(3 May 15)
The funeral for the late Michael (Mike) Butcher who passed away on Sat 25 Apr 2015 
after a long battle with Cancer 
was held on Sat 2 May 2015 at St Judes Anglican Church, Bowral.

Michael was an extremely talented musician who at a young age served as a Band Boy at the HM Royal Marines (RM) School of Music and later in the RM Band beore coming to Australia in 1953.  He enlisted in the Australian Army and served in Western Command Band before being posted to the Army School of Music at Balcombe, Vic in 1957 as an instructor. In 1960 he transferred to the RAAF Central Band and in 1966 was selected to attend the Royal Military School of Music, Kneller Hall, in the UK.  On his return he was appointed the Music Director of the RAAF Base Richmond Band. In 1973 he resigned to take up an appointment as Director of Music, NSW Police Department, where he served for ten years. In 1976 he took over as as conductor of the Hornsby Concert Band winning many titles and in 1980 formed the Hills Music Academy. In 1984 he rejoined the RAAF and was appointed OC RAAF Central Band. In 1989 he retired from the RAAF and re-formed the City of Sydney Concert Band and returned to the Sydney Conservatorium as Conductor of the Wind Band and lecturer in instrumental pedagogy. In 2001 he was awarded the OAM for his serrvices to music. In around 2000 both Mike and his wife April moved to the Southern Highlands and later became the MD of the Southern Highlands Theatre Group Orchestra. He was not only an excellent player on many instruments, he was also a prolific composer and arranger with some of his composition having been published.  
It is of note that when the AABC Association was formed Mike was part of the group who put forward the idea to establish a Band Corps Association.
The AABC Association pass on their sincere condolences to the family and friends.  RIP
---
Vale Ken Hussell 
(18 Apr 2015)
It is with regret and sadness that I advise the passing of Ken 'Pancho' Hussell who passed away in hospital at 0530h on Fri 17 Apr 2015.  Ken had been ill for some time with an agressive form of Prostate Cancer and fought to the end.  
The funeral for the late Ken 'Pancho' Hussell was held on Wed 22 Apr 2015 at the Cowra Cemetery. 

Ken joined the Army as an Army Apprentice musician and after graduation he was posted to Southern Command Band as a Cornet player.  Later Ken was selected to undergo officer training at OCS Portsea and was commissioned as an Ordanance Corps officer, later to become a Major in the Corps.  During that time he did two tours of Vietnam, but was injured on his second tour and returned home. Ken finally discharged and resided in Canberra and worked at th AWM.  After Canberra Ken, his wife Trish and the family moved for the restful rural life at Cowra.  Ken was a fine soldier who cared for his men and other people, to the extent both Ken and Trish fostered disabled children.
The AABC Association pass on their sincere condolences to his wife Trish, his family and friends.  A fine man that will be sorely missed. RIP
---
2015 AABC Association Reunion - Adelaide


(20 Mar 2015)
Confirmation has been received from the South Australian Chapter of the AABC Association advising that reunion dates for 2014 are 

Fri 16 Oct - Sun 18 Oct 2015. The Executive Committee suggest that if you intend attending you should start planning and book your flights and accommodation.

An outline of events and timings are being published in the next issue of the Association's Newsletter due out prior to Anzac Day.  The Event Sheet can be seen on the Reunions link or by clicking here.  The Registration Form with all costings is on the Reunions link.

Stop Press: The AABC Association Golf Trophy game programmed for Fri 16 Oct is being held at the Belair National Park Golf Club, Upper Sturt Road Belair Park Ph: (08) 8278 8991. The game will start at around midday (time TBC) with the costs as follows:- Green Fees: $25, Buggy Hire: $40, Club Hire: $20. Members that intend playing are advised that a booking for the course has been made, plus a booking for six carts. Members should still ring the Pro Shop (number above) to confirm their booking.  The committee is investigating the cost of hiring a Hi Ace type vehicle to convey members to Belair Park from Warradale Barracks and back.
---
Army Apprentices Reunion - Albury/Wodonga 23 - 25 Oct 2015

(19 Mar 2015)

The 2015 Army Apprentice Reunion will be held in Albury/Wodonga on Fri 23 Oct - Sun 25 Oct 2015.  A brief outline of planned events are listed in the Reunions Link.

Event Manager Otto Abere (21st Intake)

 -

 events@austarmyapprentice.org
---
Major Kevin Klein, Retd - 80th Birthday Surprise
(1 Apr 2015)
WO1 John Franklin reports that during a recent visit to Bundaberg The Band of the 1st Regiment RAA paid a surprise visit to retired member MAJ Kevin Klein's place, marching up his driveway and lopping on his front lawn to the strains of 'The Minstrel Boy'.  After playing 'Happy Birthday' to Kevin, who turned 80 a few weeks ago, he was handed the baton by the Bandmaster, WO1 Simon Renfrey and he proudly conducted 'The Army March'.  It was clearly evident that he was pleased and surprised to see us and he greatly enjoyed the experience.  Kevin who has been ill for some time this visit by the Band certainly lifted his spirits reports WO1 John Franklin.

Kevin's wife Judy is coping, but says Kevin is positive and hopefully any ongoing treatment will help him cope with his prognosis.  Judy says if you're vistiting the area please drop in and see Kevin or phone him on 07 4152 8807. He would love to hear from his former friends and colleages.  

Kevin is a much respected member of the association and our thoughts and prayers go out to Kevin and Judy at this time. 


---
Vale Max Le Vier
(12 Feb 2015)

Association member Ern Trotter recently advised of the passing of Max Le Vier, aged 88 who passed away on Wed 11 Feb 2015.  Max joined the Army nearing the end of WWII and served with the British Commonwealth Occupation Forces (BCOF) in Japan.  A former member of Southern Command Band/3MD Band and the Victorian Police Band. The funeral for the late Max Le Vier was held at the Joseph Allison Chapel, 941 Mt Alexander Road, Essendon, Vic on Thu 19 Feb 2015. The AABC Association send their sincere condolences to Max's wife Shirley, his family and friends. RIP.
---

CO Australian Army Band


(2 Feb 2015)
The AABC Association congratulates LTCOL Andrea McMahon on her appointment as the new Commanding Officer, Australian Army Band.  LTCOL McMahon took up the position in January 2015 replacing the outgoing Commanding Officer, LTCOL Gordon Lambie, CSM.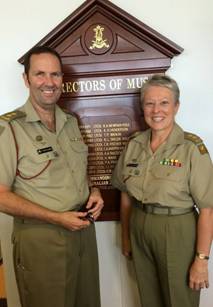 ---

Sean O'Boyle AM


(26 Jan 2015)
MEMBER (AM) IN THE GENERAL DIVISION OF THE ORDER OF AUSTRALIA 
Mr Sean Michael O'BOYLE, Bethlehem, Pennsylvania 18018, United States of America For significant service to music as a composer, conductor, musician, performer and musical director.
Artist in Residence, Moravian College, Bethlehem, Pennsylvania, USA, focusing on Australian music, 2011 - 2012; Artist Lecturer, since 2013. Founder and Artistic Director, Bethlehem Composers Orchestra, Bethlehem United States of America, since 2013.
Developed and conducted more than 400 performances, Queensland Orchestra's Kiddies Cushion Concerts, Queensland Symphony Orchestra, 1993 - 2010. Composer, Music Director, Queensland Ballet Company, since 2004. Composed two operas and toured and performed for over 70,000 school children, Opera Queensland. Adjudicator, Queensland Education Department, FANFARE. Composer, Conductor, Orchestrator, Recording Producer, since 1994. Approximately 100 albums in collaboration with Australian Broadcasting Commission, Composed music for Gardening Australia, New Eden, Composed, ABC's Olympic theme, 2000; performed, Commonwealth Games, Manchester, 2002; Olympic Games, Athens, 2004; Composed Concerto for Didgeridoo And Orchestra, ranked #32 in the ABC Classic FM The Classic 100 Concerto's and #87 in ABC Classic 100 - 20th Century. Music Director and Composer, Feature film A Heartbeat Away, 2010. Wrote and arranged music for The Rugby League World Cup, 2013 and The Ashes Cricket Competition, 2009.
Ambassador, Australian Children's Music Foundation, since 2003. Former Board member, Major Brisbane Festivals, 2007 - 2011; Music Director, various productions, since 1998. Guest Conductor, Queensland Education Department Creative Generation State Schools Onstage, MOST (Musically Outstanding Students) Awards. Artist Advisor, Barrier Reef Orchestra.
Fellow, Australian Society of Composers & Musicologists; Council member. Appointed Fellow, North & Midlands School of Music. (United Kingdom) Member, Australasian Performing Rights Association. Member, Media Entertainment and Arts Alliance. Member, Fellowship of Australian Composers.

The AABC Association congratulate Sean on his award.
---

Sick Parade - Len Haines
(4 Jan 2015)

Association member Lindsay Hobden has advised that Joan Haines, wife of Len Haines contacted him and advised that Len is not well and has been in and out of hospital over the past few weeks. Lindsay says he's visited him and said Len is very frail and has speech problems.  Further information will be posted as it comes to hand.
---
Updated Agent Orange Exposure Disability List


(20 Dec 2014)
A copy of the list can be found on the Veterans Information Page.
---
RAR Foundation Tertiary Scholarship Scheme
(23 Oct 2014)
The COLCOMDT AABC has passed onto LTCOL Lambie, (Retd) some interesting information regarding the potential opportunity for those of our team past and present with service in 1 RAR Band. The RAR Foundation provide support to battalions and education assistance to children of those who have served in the Regiment regardless of corps or gender.
In 2013  the Foundation launched  their  tertiary scholarship scheme which provides $3,000 per year to successful applicants for each year of their tertiary education.  The scheme will continue in 2015 and applications are now open for three scholarships to commence in 2015.  Details of the scheme and the Foundation can be found at www.rarfoundation.org.au.
The scholarship criteria is relatively simple – the applicant must be the legally recognised child of a soldier who has served or is serving in the Royal Australian Regiment.  Tertiary includes vocational and college courses. Anyone who has served in 1 RAR Band and has eligible children will meet the criteria. There are likely to be many whose children meet the criteria and may be competitive for selection. 
Pls disseminate and promote far and wide. 
LTCOL Gordon Lambie (Retd)


---

Pension Increase for the Veteran Community: Media Release 19 Sep 2014
(26 Sep 2014)
From 20 Sep 2014, veterans, their partners, war widows and widowers across Australia will see an increase to their pensions.

Click here to read the News Release for details.
---

Sick Parade Update - Kevin Klein
(6 Sep 2014)
Whilst visiting Bundaberg recently I called in on Kevin Klein at his home.  He looked fine and and advised that he was feeling as well as to be expected.  He said he had visted his Doctor just a few weeks ago and had undergone further breathing tests, which revealed the results were not good.  He says he can still drive, but has problems after walking short distances and he suffers shortness of breath.  Kevin says he needs to visit his Doctor each month and says eventually he may be admitted to hospital for further treatment.  His wife Judy is coping, but says Kevin is positive and hopefully ongoing treatment will help him cope with his prognosis.  If you wish to contact Kevin phone: 07 4152 8807.  I'm sure he would like to hear from you.  More updates as they come to hand.

Kevin is a much respected member of the association and our thoughts and prayers go out to Kevin and Judy at this time. 
Secretary
---

Important Announcement - DFRB/DFRDB Pensions
(21 Jul 2014)

From Tue 1 Jul 2014, 57,000 veterans aged 55 and over will have their Defence Forces Retirement Benefits (DFRB) scheme and Defence Force Retirement and Death Benefits (DFRDB) scheme superannuation pensions indexed fairly.

Increases were previously tied to the Consumer Price Index (CPI) only. Now - recognising the unique nature of military service - they will be calculated by the better of movements in the CPI, Male Total Average Weekly Earnings (MTAWE) and the pensioner and beneficiary living cost index. These improvements will continue in perpetuity. They are protected from changes announced to other pension indexation arrangements which come into effect in 2017.

The new scale of DFRB and DFRDB increases honours a pre-election commitment by the Government and follows a protracted fight to secure a fair go through intense lobbying and veterans' forums with the then Shadow Minister and now Veterans' Affairs Minister Michael Ronaldson, MP.
---

Sick Parade - Ena Harper
(21 Jul 2014)
Jim Harper reports that since his wife Ena again underwent sugery recently as a result of problems identified from a previous operation she had in April 2013.  Jim has advised that Ena has had to spent a long time in hospital in hospital trying to get her strength back so she can begin her rehabilitation. He says Ena is still weak, has lost lots of weight and is very depressed. He says the Doctor has advised that because she has been laid up for some time now she will virtually need to learn to walk again.  Ena is now home undergoing her rehabilitation and trying to regain her weight.  Both have been through a lot in the past year with Ena in hospital and Jim having broken his knee cap on Anzac Day and who is finding it difficult to get around, so if you wish to contact Jim to cheer him up and provide some comfort I'm sure he would appreciate the call. His number is: 0408 039 776

The association send their best wishes to Ena and hope she regains her strength and can start her rehabilitation for a full recovery.


---

Fair Indexatioin Bill (FIB) - Government Delivers on its Promise
(28 Mar 2014)
The Government's FIB has been passed in the Senate in March this year. This means that the implementation for those DFRB/DFRDB superannuates covered by this Bill will be effective from the 1 Jul 2014.
ADSO thanks the Coalition Government for implementing their 2010 pledge and congratulates all, especially Sen. Michael Ronaldson for championing the case, and all those who were involved in contributing to this result.
While pleased with this success, ADSO regards it as a first step to the achievement of the same fairness for those excluded from this Bill: namely, DFRB/DFRDB superannuates under aged 55 years, and MSBS members.
The Hansard report on the Senate debate will be available shortly.

Stop Press (Fri 16 May): DFWA have advised there will be no change to the decision above despite budget changes to the Old Age Pension.


---
AABC Association Membership Database Update and Upgrade
(30 Dec13)
Hi my name is Dave Oakley, a member of the AABC Association and I have volunteered to update the Secretary and Treasurers spreadsheets to a central database. Because of the two spreadsheets in use at present we have conflicting data which for obvious reasons needs either updating or confirmation, and that is where you the members come in.  Any information entered into this central database will remain strictly confidential and will not be divulged to any outside parties.
My intention is that eventually the database will be hosted in a central website location which only key Association members will have access to.
The purpose of the database is to centralise the data we hold and be able to produce reports, mailing labels and correspondence to members all from a central location.
I would appreciate it if members could print off and complete the form below and return it to me at aabcadatabase@adam.com.au . If you dont have access to a computer forward to my home address: 14 Radnor Street, Morphett Vale, SA 5162Â  You may also contact me on sodaveo@kern.com.au or call 0438 951 738 if you need to discuss this or ask any questions.
Dave Oakley
---
Australian Army Band Corps Association Inc Facebook Group 
(16 Nov 2013)

The President, John Franklin has advised that the Australian Army Band Corps Association Inc Facebook Group has been set up to allow association members to share stories and photos quickly and easily.  It is requested that members are thoughtful and considerate about the content of their posts. 

---
I & K Music - Quality Brass and Woodwind Instruments

 
(25 Jul 2013)

If any of the members are interested in purchasing a new instrument for themselves, a family member or a student, you may be interested in a company in Melbourne that produce hand crafted instruments that represent quality and unprecedented value for money.  The company is called I & K Music. I was recently advised by an association members who had purchased an instrument/s from the company that they were extremely pleased with their purchase and highly recommend I & K Music to you.  The I & K Music website has details of each instrument with prices.  When you view a particular instrument on the website it lists a sale price also, which in most cases is half the advertised price.  I'm sure you will be pleasantly surprised! The website address is: www.iandkmusic.com.au.

---
Change of Address, Email or Phone Details
(8 Jul 2013)

If association members change any of their personal or contact details, please notify the Secretary (knoon@netspace.net.au) of the change/s ASAP.  The association recently sent out important information to members by post and by email and many letters were returned to sender, or in the case of emails many were now inactive and had been changed.  We need your details so we can contact you.

---
Website Events Calendar 
(22 May 2012)
A reminder that members can forward details of performances, reunions, meetings etc. to be added to the website calendar. Please forward information to Stu Colhoun.

---
AABK History Exhibition 
(14 May 2013)
On behalf of the AABC Association I wish to congratulate the Museum of the Riverina, Historical Council Chambers site, Wagga Wagga for their excellent exhibition of 'The History of the AABK, Instrumental in Defence', the display running from Fri 1 Mar and closed on Sun 5 May 2013. Thank you to all those people who helped make this display possible.  I'm advised by the curator Jeni Bradley-Cahalan that the exhibition was well attended during its duration and that lots of interest was shown by the people of Wagga Wagga, school children and visitors to the region. I visited the museum last month and was impressed by the extensive exhibition of memorabilia, historical photographs and stories, which covered the history of the Australian Army Band Kapooka (AABK), formally known as the Kapooka Band, Royal Australian Engineers Band, Royal Australian Signals Band and the 1st Recruit Traning Battalion Band. Congratulations!
---
Sick Parade Page
The Association website has many 'Sick Parade' posts that are well out of date and depending on the member/s concerned some posts need to be either updated or deleted. If you're one of the members that are listed in the page please advise the Secretary of your updated condition or situation. Thank you.

---
AABCA Forum website 
(2011)
The AABCA Forum website is now active. To access the forum follow the AABCA Forum link on the menu. Please check it out, have a go at registering and adding a post. If you have any questions please contact the Forum Moderator Ralph Newman

---
Change of Address Details

 
If any member has changed their personal details. eg. phone, mobile numbers or email address, please advise Kevin Noon, the Association Secretary at knoon@netspace.net.au
---