Updates and News
Vale - John Hughes
(1 Nov 2023)
A former member of the AABC, John Hughes, passed away on Thursday 26 October 2023 aged 85. John had been diagnosed with bowel cancer and only recently he suffered a stroke.
Early in John's military career he was posted as a euphonium player to RMC Band then in the early 1960s was a member of Southern Command/3MD Band. Later John served in a logistics position as the AABC Band Instrument Storeman at 21 Supply Battalion located at Broadmeadows, Victoria. John continued his service when posted to Holsworthy, NSW where he and his family settled. John was a member of the AABC Association, he and his late wife attended several reunions in the early days prior to his ill health.
John was a devout member of the Salvation Army and played regularly and conducted Salvation Army Bands throughout his lifetime. He was also a longstanding member of the International Military Music Society.
The funeral for the late John Hughes will be held on Wednesday 8 November 2023 at 4.30pm at Forrest Lawn Cemetery, Leppington, NSW with a wake being held at the Catholic Club in Campbelltown, NSW. RIP John... Your Duty Done.
Kevin Noon
---
Vale - Byron Bootes
(1 Nov 2023)

Byron Bootes passed away on 17 April 2023 aged 86.

Byron was a member of the Royal Australian Engineers (RAE) Band in the mid 1950s. Following his recruit training Byron was posted to the RAE Band which at that time was at Casula, NSW as part of the RAE Training Centre. Following the bands relocation to Kapooka most of the band followed and served there until it was eventually renamed 1 RTB Band.

Byron left the band in the 1960s and went to Vietnam serving as the Manager of ASCO, the Canteen Organisation. On his return to Australia he was posted back to Kapooka where eventually he was promoted to WO2 and Manager of the Canteen there.

Kevin Noon
---
Vale - Joe Costello
(18 Sept 2023)
John Kirk (Joe) Costello lost his battle with deteriorating health on Saturday, 16 September at approximately 9.30am. John will be much remembered for his intense love of and kindness towards animals, his generosity of spirit with people, his extraordinary musicianship and long history with the Australian Army Band and of course his true blue Aussie mateship. John will be missed immensely by his sister Judy, Dawn and of course his wider family. Rest in peace now John. We will miss you so very very much.
Barry McCosker
---
AABC Association Award 2022
(16 November 2022)
AABCA members,
At this year's AABCA AGM, held via Zoom on 8th October, it was announced that the recipient of this year's AABCA Award was LCPL Amelia Johnson from the Australian Army Band Kapooka. The CO AAB, LTCOL Glenn Rogers was able to make time last Fri to get down to Kapooka from Canberra to present the award to a very appreciative LCPL Johnson (please see the photo provided by AAB HQ), and also note the lovely letter I received from Amelia to the AABCA expressing her appreciation.
Regards,
Gordon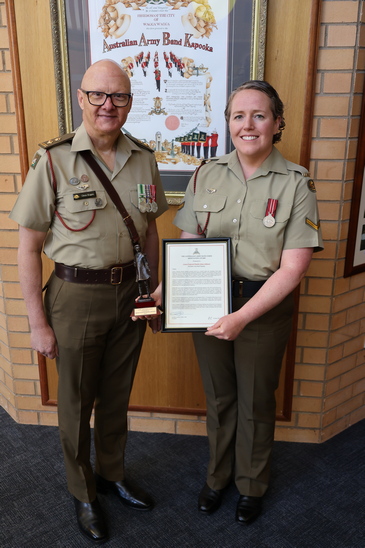 ---
Noteworthy News Newsletter Archive
(26 Sep 2022)
Financial Association members can now access past editions of Noteworthy News on the Association website.
To gain access contact the Association Web Manager, Stu Colhoun, with your name and email address - Contact Web Manager
Once access is granted you will receive an email with a username, password and a link to the secure page.
Once membership fees are paid by 1 July of each year access will be for 12 months or the balance of the financial year from when the fees are paid. 
---